ATBC Ramadan Iftar Dinner 2022
ATBC Ramadan Iftar Dinner 2022
ATBC proudly announces that it will be holding its 19th Annual Iftar at the Waterfront on the Pier.
28 April 2022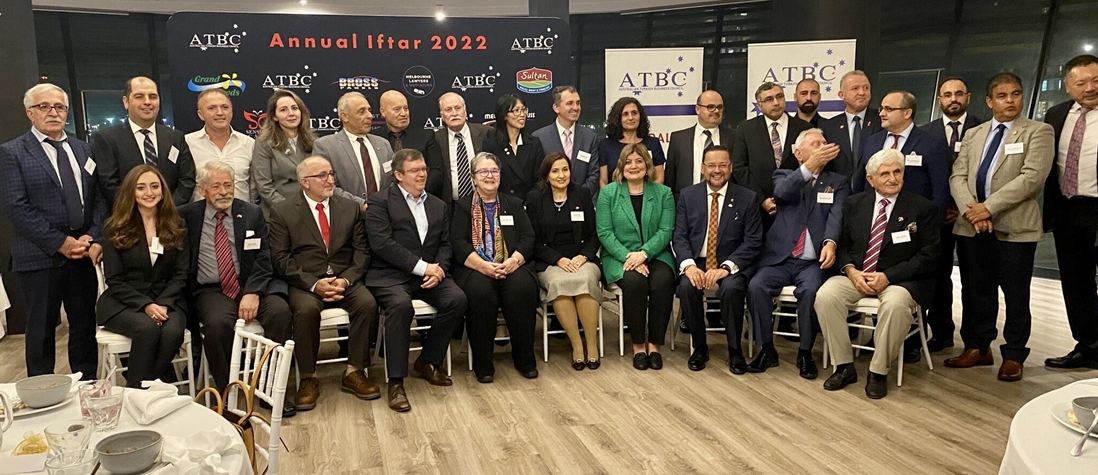 Australian Turkish Business Council (ATBC) had the great pleasure to host its 19th Annual Iftar, the longest running consecutive Iftar of any organisation in Australia.  We thank our members, friends and VIP's who made the time to attend, making the evening such a special occasion at a great location at the Waterfront on the Pier. 
 We thank the many VIPs who provided their support by attending and those who spoke at our Iftar, Natalie Suleyman MP representing the Hon Daniel Andrews and Hon Ros Spence MP, Craig Ondarchie MP, Frank McGuire MP, Consul General of Turkey Mr Eser Torun, Vivienne Nguyen Chair of VMC, Mr Tin Chan of AHRC, Dr Hass Dellal and Oscar Yildiz JP.  Thank you to Imam Nusrettin Ozturk for his beautiful recitation of the call to prayer to open the Iftar and Prof Nuh Arslantas who closed the evening with prayer in 3 different languages. 
 A big and special thank you goes to our Keynote Speaker Judy Small AM, a Judge of the Federal Circuit Court of Australia (retired) and an Award Winning Folk musician.  We thank Judge Judy for taking time from her busy schedule to share her story with a group who needed such inspiration and connections.  Her valuable insights about multiculturalism and her message on what it truly means to embrace differences was moving.  Her presence and wise words demonstrated her deep empathy toward diversity. The idea of "difference" was explored with inclusive ideas that urged us to "embrace" rather than "tolerate".  We thank her for enlightening us with her words of kindness that helped shift our thinking and instilled us with a renewed sense of hope! 
 Her speech which touched upon Mick Malthouse's inappropriate remarks to Collingwood ahead of Anzac Day has led to action being taken resulting in securing an apology.  We thank the Consul General, Hass Dellal, Vecihi Basarin, Oscar Yildiz together with ATBC members for their smooth and prompt handling of this matter. Her speech is available via this link.
 ATBC proudly introduced a new member, Sensible Care, the first approved provider of in-Home Care Services and Disability Support Services owned and operated by people of Turkish background.  Mr Bora Akdeniz, Director of Sensible Care, talked about his newly founded Home Care and NDIS service to the guests.   
 This event would not have been possible without the hard work of our President Meryem Apak, former President Muradiye Selvi, Vice President Osman Kuyruk, Alan Yildiz, Necmi Kul and Hayriye Uluca the Master of Ceremony for the evening and Mr Huss Mustafa the Honorary President and Patron of ATBC. 
 Last but not least we thank our numerous sponsors and supporters who made event possible Bross Panels,  Melbourne Lawyers & Mediators, Sensible Care, Sultan Halal Meats, East Street Furniture, Grand Foods, Melbourne Truss, Australasian Corporate Services, Selvi Psychological Services, XMport Global Trading,  AUM Lawyers, Huss Mustafa & Family. 
The event is proudly sponsored by:
Selvi Psychological
Melbourne Lawyers and Mediators
Australasia Corporate Services
Bross Panels
Sultan Halal Meat
Huss Mustafa Family
Melbourne Truss
Grand Foods
East St Furniture
XMPORT Global Trading
---